Discover more from Mark Hall - Essays On Tech, Business & Innovation
Daily essays about technology, business, and how the two intersect.
San Francisco: The Tech Haven Facing Heavy Criticism For Questionable Employee Paychecks
A Recent Investigation Into SF's Employee Compensations Paints A Surprising Picture
San Francisco is a city beloved by tourists, techies, foodies, and anyone who enjoys a cultural melting pot. It's become an integral part of the technology ecosystem as it has extended Silicon Valley north from its original roots of San Jose and Palo Alto. 
Aspiring entrepreneurs, young creatives, and venture capitalists have all moved up to SF to get the benefits of an intellectual workforce in a bustling big-city environment.
Personally, I love San Francisco because of its vibrant energy, scenic views, and cultural diversity.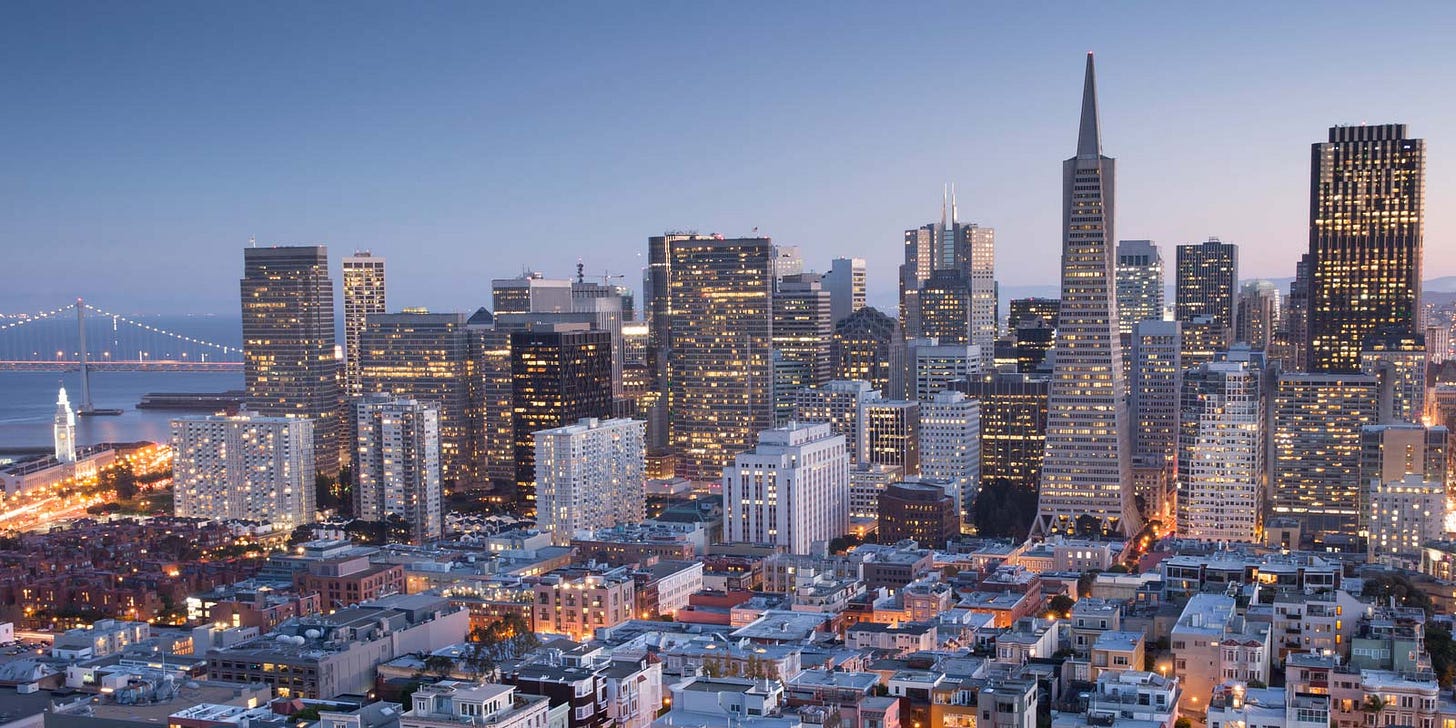 However, the city has long faced criticisms on multiple fronts for being anti-business, poorly managed, and lacking the necessary social services. These are most often exemplified by some of its tax policies and overly-prevalent homeless problem. 
Like other locals, I've seen the depths of the homelessness and mental health problems plaguing the city, but I'll spare you the stories.
A recent report outlined by fellow Forbes contributor Adam Andrzejewski illustrates the spending habits of the city that aren't widely known but are sure to shock you.
Adam is also the founder of OpenTheBooks.com, which claims to be the world's largest database of public sector expenditures, so he uses the data gathered through his research to share it with his readers.
The figures shared in his article corroborates with what's been reported by other publications in prior years. 
Before we go further, I should provide some context and clarity. First, it's worth noting that San Francisco, like many other large cities, is a very expensive city to live in. Therefore, salaries and expenditures are expected to be higher than in smaller markets.
Also, I'm a firm believer that public employees should earn livable wages that ensure their compensation is proportionally on par with city employees of other markets.
However, some of the numbers that were disclosed were simply shocking to me.
Here are just some of the key data points cited in the article:
Of the 44,526 people who are employed by the city of San Francisco, 18,749 earn a compensation package of more than $150,000 annually, which includes retirement, health, overtime, pension, and other benefits on top of base salary. 

The city's mayor, London Breed, is the highest-paid mayor in the country. She earns a salary of $342,974, with an additional estimated $109,447 in perks. It's also noted that thirty-one staffers in Breed's office earn a total compensation package of more than $200,000 annually.

The average salary for police and sheriff employees in the city is $188,000 per person. In fact, the city's police chief (William Scott) received an annual salary of $338,482 and additional benefits equating to $96,131.

Nearly 75% of employees of the city's fire department earned a compensation package of more than $100,000. In fact, the city's fire chief (Jeanine Nicholson) earned $442,722 last year in total compensation.

The city's homeless population increased to an estimated 8,000 this year, which is up 17%.

Complaints about human waste in San Fransico increased from 18,246 back in 2016 up to an estimated 31,000 last year. Yes, you read that right.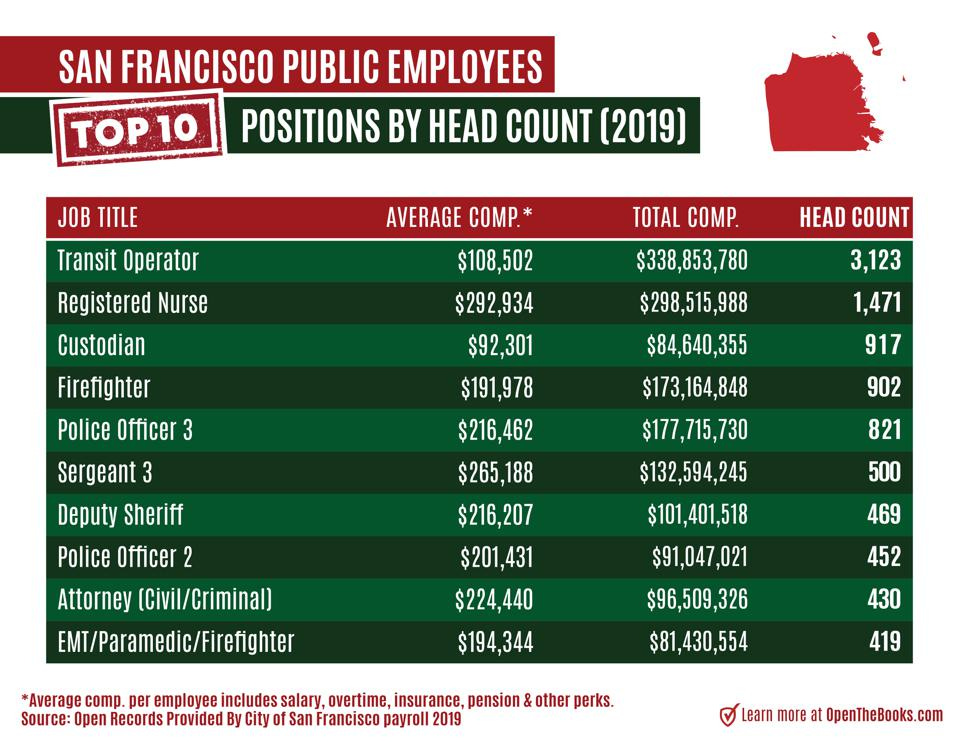 "We found truck drivers loaded up with $262,898; city painters making $270,190; firefighters earning $316,306; and plumbing supervisors cleaning up $348,291 every year. One deputy sheriff earned $574,595 last year – including $315,896 in overtime." -Adam Andrzejewski
So why does this matter? 
If San Francisco is going to continue to be an attractive destination for young talent, growing startups, and a progressive workforce, it will have to be financially solvent, fiscally responsible, and publicly accountable for its compensation practices.  
In the midst of a pandemic, while the city faces a reported $1.5 billion deficit, it's difficult to fathom how the current status will be sustainable. Furthermore, it's easy to imagine resistance to policies that require higher taxes when people start to lose confidence about where their funds are going. 
As a resident of a neighboring city, I think this is important for all Californians to be aware of. I also think it's a critical reminder to all of us to evaluate how efficient our cities are operating.
Have you taken a look at how your city lines up? Maybe you should.